Birds of Brooklyn
A community-based, public audio installation highlighting Brooklyn's endangered and bygone birds.
Birds of Brooklyn is a community-based audio artwork that brings the sounds of Brooklyn's displaced, endangered, and bygone birds to sites around the Borough.
During daylight and early evening hours, bird songs that are rarely heard in densely populated Brooklyn neighborhoods are projected from each participating Host location. Twenty different recordings can be heard by neighborhood residents and passersby, including the Ring-necked Pheasant, Grasshopper Sparrow, and the Eastern Blue Bird.
This audio art project aims to reconnect city dwellers with the natural sounds of the area and raise awareness about declining bird populations in urban environments.
Birds of Brooklyn was also a featured project at Pulse Miami Beach in December 2014.
An archive of the project can be found at birdsofbrooklyn.org
Bird Song
Between twenty and sixty different bird calls and songs can be heard at each Birds of Brooklyn host location.
The selection of bird sounds was chosen to highlight birds that are not commonly heard on the streets or shores of Brooklyn but may have been at one time.
Although some of the birds are common outside of the City or in parks, many are threatened or have been extirpated from the Brooklyn area due to urban development, pesticides, airport management practices, climate change, as well as shrinking grasslands, marshlands, green space, and forests. Two of the birds are extinct!
Here are some of the birds you may hear at Birds of Brooklyn host sites.
( Audio recordings courtesy of Macaulay Library, Cornell University, Ithaca, New York )
Press
"A Bird Sings in Brooklyn" Natural Resources Defense Council's OnEarth Magazine, Sarah Schmidt, June 5, 2012
"AUDIO: Birds of Brooklyn" Natural Resources Defense Council's OnEarth, Jaime Bedrin, June 5, 2012
"Audio Art Fills Brooklyn Streets," WABC News, Lauren Glassberg– October 13, 2010
"Tweet Sounds of Birds Sing Out," NY Daily News, Elizabeth Lazarowitz– October 12, 2010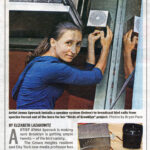 "Guide to Art Basel Miami Beach 2014" Paper, Gary Pini , November 4, 2014
"ART BASEL MIAMI BEACH 2014: WHAT'S HAPPENING THURSDAY" Papermag.com, December, 2014
"Mile End Deli", New York Times, Style Section, Ligaya Mishan, February 8, 2011
"Flock of Bagels," Traveling Mom, Eden Pontz – November 3, 2010
"Birdsongs in Prospect Heights & Elsewhere in Brooklyn Raise Alarms," Associate Content, Jesse Schmitt – October 14, 2010
"Birds of Brooklyn Tweet in Local Coffee Shop" Prospect Heights Patch, Stephanie Carlin – November 15, 2010
"How Tweet It Is" CUNY Newswire – October 14, 2010
—
A Special Thanks
To the Greater New York Arts Development Fund of the New York City Department of Cultural Affairs and Brooklyn Arts Council for funding and support.
To Peter Dorosh, Tom Stephenson, Ronald Bourque, Anne Hobbs, Christianne White, Brooklyn Bird Club, Celebrate Urban Birds, Cornell Lab of Ornithology and local, Brooklyn-area birders who offered their suggestions during the research phase of this project.
To artist-farmers, Thad Simerly and Kimberley Hart, for their excellent installation skills.
And to Arthur Peters and John Huntington for their sanity-saving programming and technical expertise.