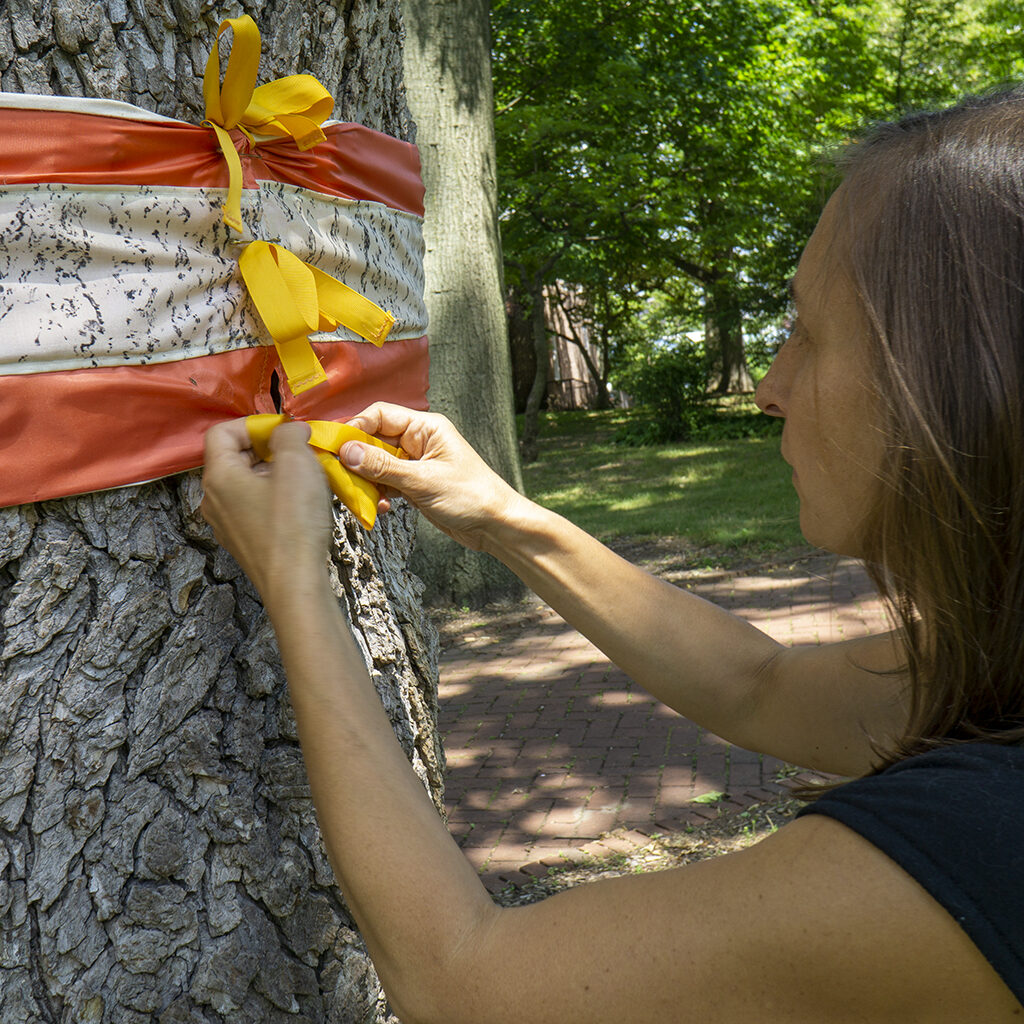 Jenna Spevack is a New York-based artist, designer, and educator. She uses interactive and participatory practices to explore how relationships with nature, simulated and real, can help to rekindle a sense of awe and a deeper connectedness to the natural world.
Her work has been shown in one-person and group exhibitions nationally and internationally, including Wave Hill, Pulse Miami, Mixed Greens, BRIC House Gallery, Woskob Family Gallery, Hendershot Gallery, Sanlun Yishu – Beijing, Mucius Galéria – Budapest, White Columns, Art in General, Artists Space, Monya Rowe Gallery, Arts Center of the Capital Region -Troy, NY, Albright Knox Gallery, and Panorama City – Zurich.
She has received several grants, residencies, and fellowships including the New York City Department of Cultural Affairs grant, Lower Manhattan Cultural Council Process Space Residency on Governors Island, I-Park residency in Connecticut, Platte Clove residency in Catskill NY, Estonian Artist's Association residency in Tallinn, Fine Arts Work Center in Provincetown, MacDowell Colony, Blue Mountain Center, Fundacion Valparaiso, and PSC-CUNY Research Foundation Awards.
Her work has been recognized in publications such as The New York Times, WABC News, The Daily News, CUNY Channel, New York Arts, The Times Union, Daily Gazette, Metroland Magazine, Provincetown Magazine, Provincetown Banner, Providence Journal-Bulletin, GOOD, Art21, Fast Company, Hyperallergic, Self China, and Art New England, among others
She has a BFA in Printmaking from the State University of New York at Buffalo and an MFA in Painting/Printmaking from the Rhode Island School of Design.
—
Jenna is also Professor of Communication Design and Co-Director of City Tech's OpenLab at the NYC College of Technology, The City University of New York.
Selected Exhibitions & Press
AVIFAUNA: Birds + Habitat, Wave Hill's Glyndor Gallery (April 7 – June 24, 2018) Press: Hyperallergic | Riverdale Press
SEEP at The Woskob Family Gallery at Penn State University (AUGUST 24 – SEPTEMBER 30, 2017) Press: Penn State News | Interview
Being Well at The Old Stone House, Brooklyn (AUGUST 24 – NOVEMBER 7, 2017) Press: Brooklyn Eagle
Wood Works at Yard Work, BLDG 92 – Brooklyn Navy Yard (January – May 2017 Daily 7am-7pm) Press: PSFK & The Architects Newspaper
LMCC Open Studios at Governors Island (May 28 & 29 & June 25)
Process Space Residency – Governors Island (March – June 2016)
InsideOut House – FoodShed at CR10 Hudson (August 8 – September 5, 2015)
Guide to Art Basel Miami Beach 2014 – Paper (Gary Pini : November 4, 2014)
Bird of Brooklyn: Miami Migration (Pulse Miami Beach : December 4 -7, 2014)
Inside the BRIC Biennial – Flavorpill (Emily Turner : September 23, 2014)
National Geographic – On Assignment (Tyler Metcalfe : September 5, 2014)
BRIC Biennial – Hyperallergic (Jillian Steinhauer : August 20, 2014)
Artists Probe Urban Agriculture – Hyperallergic (Allison Meier : July 1, 2014)
FOODShed : Smack Mellon, DUMBO Brooklyn (June 7-July 27, 2014)
Grow a Salad Workshop : With Food In Mind (June 21, 2014 : 11am-1pm)
Digging Deeper : Strange Invitation – Franklin Street Works, Stamford, CT (April 6 – June 16, 2013)
Pulse Miami : Seeding the City (December 2012)
8 Extraordinary Greens – Mixed Greens, NYC (May 3 – June 2, 2012)
Platte Clove Artists – Erpf Gallery, Arkville, NY (December 10, 2011 – April 6, 2012)
Horseplay – UB Art Gallery, Buffalo (September 8 – October 22 2011)
WABC-7 News – Birds of Brooklyn (October 13, 2010)
Birds of Brooklyn (On-going from September 2010)
WABC-7 News – Window Farm (May 28, 2010)
Window Farm : 156 Williams Street, NYC (August – September, 2010)
Trilogy : Chelsea Modern, NYC (August 19 – September 17, 2009)
Ferencvarosi Gallery, Budapest (May 7 – May 29, 2009 )
Hendershot Gallery, NYC, Artist Talk March 7, 2pm (January 22 – March 7, 2009)
Sanlun Yishu : Beijing, CHINA (Dropping Brooklyn – on-going)
MONTI OPEN STUDIOS (November 15, 2008)
Emerging Artists Series : Cleary Gottlieb, NYC (September 18 – December 18, 2008)
HMC/A.I.R at Mucius Galéria, Budapest (August 5 – August 15, 2008 )
Artist Residencies : Hungary and Estonia (June 16 – July 31, 2008 )
Some Things Which are Funny : Lisa Boyle Gallery (July 29 – August 26 2006)
Conduit: Columbus State University (October 12 – December 8, 2005 ) "The artists included in Conduit not only rearrange and explore our relationships to the natural world; they also invite the viewer to engage with their role as participant in the making of meaning, the creation of science and the internal and external environments.
A Funny Feeling of Weightlessness at Anthony Giordano Gallery (October 10 – November 14, 2004 ) "Basing their work on their own scientific theories and beliefs, Spevack explores the nature of existence through different narratives while Busby's Creativity Enhancement Shelters function as both sculpture and precincts to promote imagination."
PS122 Artwurl : #17 (Issue 5 – March 04 ) "Warp & Weft" is a series that combines digital diagrams with scanned pencil drawings of various objects and animals. The distorted, orange web is a continuous pattern created by charting every move in a group of chess games played by the artist. Chess is sometimes called "the game of life". Each game was recorded and a visual representation of that particular game was created. The variety of outcomes is reflected in the different patterns. Contained, floating or slipping through the weave of the web are bits and pieces of fragmented matter — fluid particles.
Featured Artist : At Length Magazine (Issue 2: Winter 2004 ) "Drawings from the Sticks and Stones series have been published in the most recent issue of At Length magazine. This is a literary magazine devoted to one long poem and one long story or novella each issue."
White Room at White Columns (December 2003 – February 2004 ) "Jenna Spevack's drawings explore various systems of theory and belief, from scientific thought to religious values. For example, an ongoing series uses three basic objects-sticks, stones and strings-to explore paradigms of physics, from the Theory of Relativity to superstring theory. Her recent drawings introduce floods and explosions to the mix, sending their subjects floating out to sea or hurtling through the air. In some, depictions of animal patterns butterfly wings, turtle shells, zebra skins, etc.) evoke nature in a highly stylized manner. Spevack's delicate drawings examine the interaction between humans and their environment, both harmonious and doomed." –Lauren Ross, Former Director/Chief Curator